Raising Gamebirds for fun or profit offers many rewarding opportunities and Leland Hayes has devoted years to helping others learn about raising these wonderful birds. To see for yourself, take a look at some of his Free Articles on Game Birds!
We think you will find them informative.
---
Currently Available Articles:
"Reeve's Pheasant"

"Red-Breasted Goose"


---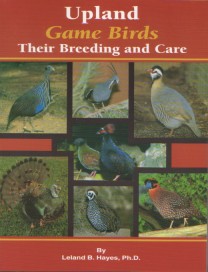 Most of the information in these Articles is taken from the book, Upland Game Birds, Their Breeding and Care by Dr. Leland Hayes.
There are 55 different species of Quail, Partridges, Pheasants, Junglefowl, Wild Turkeys and Guineafowl covered in this book.
This book is now available on cd in searchable pdf format.
Read more about this book click here: Upland Game Birds, Their Breeding and Care
---
To read these articles you must have the FREE ADOBE READER (version 6.0 or above) downloaded to your computer. You will need to download the Reader only once.

If you do not have the Free Reader please select 'Get Adobe Reader' icon below before choosing an article to view.